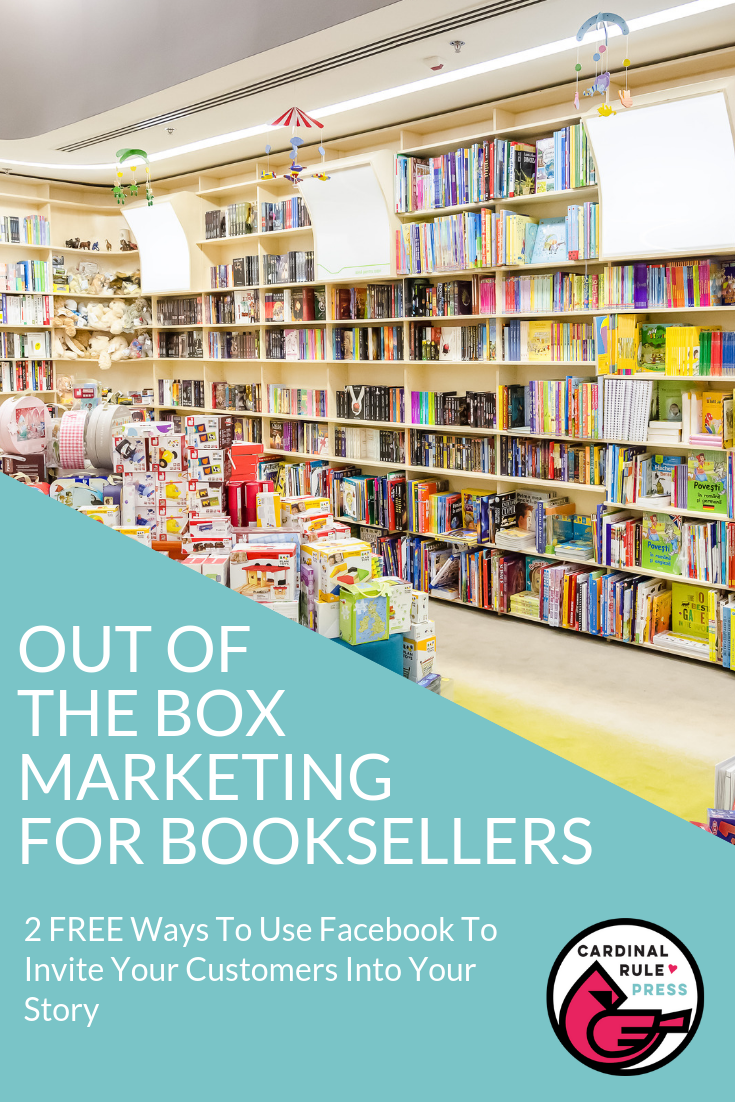 ---
A note from the editor: A new year means new sales goal for your bookstore and if you want to crush them, you're going to need to think outside of the box for your 2019 marketing plan. Today's post is part 2 in a 3 part series designed to help think outside of the box and get creative in their marketing efforts. Part three will publish in March. While this post is written for booksellers, if you are a librarian these techniques may also work for you. Read part one of our series, Two New Ways To Increase Attendance At Storytime, here.
Using social media is a great way to connect with your customers, share updates about new arrivals in your bookstore and draw new people into your store. Social media is free to use, just open up an account for your store.
Facebook is a great social media platform to get started with. If your business doesn't have a Facebook Page, here is a great tutorial on how to set one up.
The events feature on Facebook is a free way to let people know about what is happening in your bookstore. If you have never created a Facebook event before or want to optimize your event, this is an amazing tutorial from Sprout Social that will walk you through the process step by step.
Here are some typical bookstore happenings that would be a perfect for Facebook event.
Storytime

Musical performances

Open mic nights

Author events, readings and book signings

Book club

Expert lectures

Store promotions

Special Storytime events (holiday or themed).

Workshops & Craft nights
Pro tip: Make sure you engage with your events after you've created with them. Post updates within the events, create conversation, share the event on your feed and email your newsletter list to tell them about what's going on!
Going live on Facebook is a great way to build a rapport with your customers and bookstore visitors. According to a recent survey, 2.27 billion people use Facebook actively each month, which means there are sure to be a few viewers of your video!
Pro tip: Facebook is a social media platform that LOVES video and LIVE shows. In fact, in their current algorithm, video and LIVES are favored and given more reach than posts with just text.
You can use live video to give book recommendations, show the unboxing of new products, or explain the behind the scenes process of how you you set up displays (including how you choose which books to group together in a display). Believe it or not, people love getting peeks into the behind the scenes.
Another great way to use live video on Facebook is to stream interviews with special guests and authors. No longer does an author need to be in your bookshop for a reading, you can broadcast it live with just a little bit of technology (you'll need a Zoom account).
The best part about going live on Facebook is that it doesn't have to be scripted or use fancy video equipment. You can just show up live, without the expectation of perfection. With that being said, there are a few things you may want to plan out, which is why we've made you a Facebook Live guide book and planner. Want it? Perfect! Simply enter your email address below and we'll send it to you.
---
Author Bio
NJ Rongner is a digital marketing expert who consumes books like she does air. She loves marketing, books, coffee and living in MA (although not necessarily in that order).