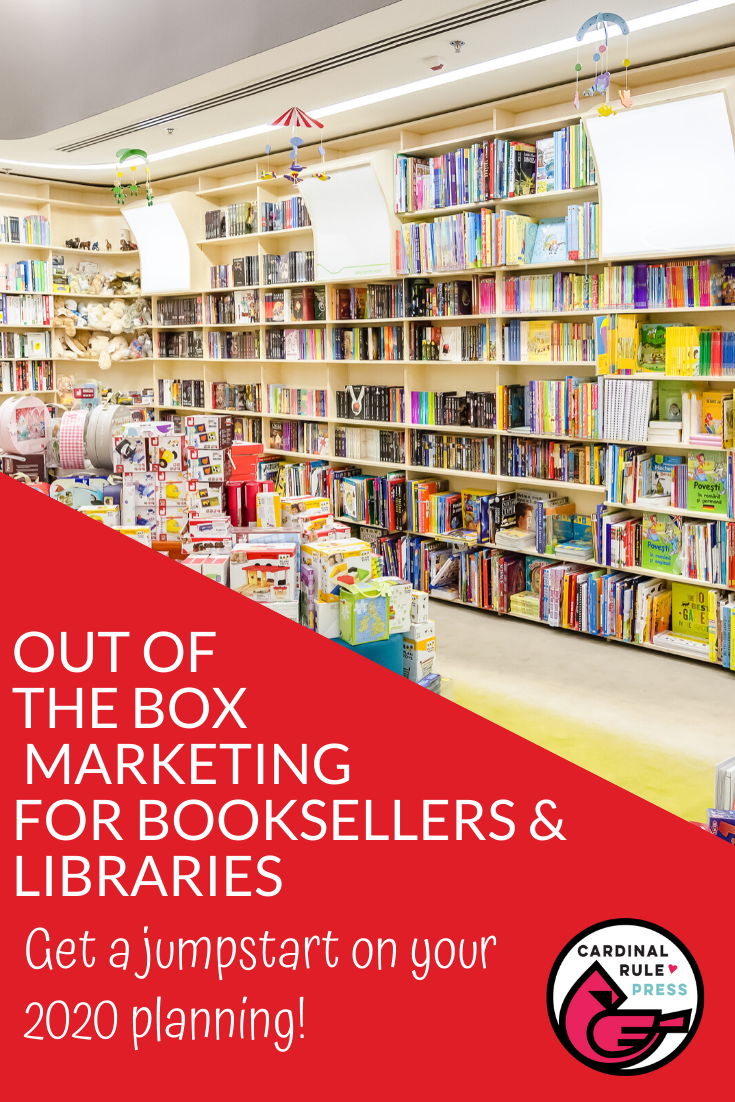 Editor's Note: As we say goodbye to the year, it is important to take a moment to pause and reflect. As always, we are dedicated to bringing you out of the box marketing ideas for your bookstore or library.
We know that 2020 is going to be an amazing year for your bookstore or library. To help you plan, we've developed a few questions to help you improve your customer experience for the next year. To maximize your experience, print out the brainstorming worksheet here and fill in your ideas.
How Can We Improve Customer Service?
How well you serve your customers will influence if they decide to pay you a return visit. Here are a few out of the box ways to think about improving your customer service for 2020.
Inventory Audit:

Does your customer see themselves reflected in the books you carry?

Do you meet the needs of your customers in the books you stock on your shelves?

Staff Interaction Audit:

How does your staff interact with customers?

What is the tone they use when they have to switch gears from the task they're working on to help a customer?

Environment Audit:

What is the journey like from the front door to the checkout desk?

Is it warm and inviting?

Is it easy to find the restroom or conference room?
What Entertainment Groups Should We Bring In?
It can seem like summer or school vacation weeks are a million miles away, but it is time to plan for your special programming (like summer reading programs) and entertainment. The sooner you get the dates for your entertainment confirmed, the more time you'll have to promote it.
Don't forget to ask your guests to share that they'll be at your event on their social media! You can also submit your special events to community calendars (most radio stations, news stations and local bloggers have one).
Entertainment will look different for every bookstore or library, but here are a few ideas to get you started.
Community Workers

Zoo on the Go Programs

Musical Guests

Magic Shows

Dog Reading Hour

Dance Performance

Local "Heros"
How Can We Leverage New Authors For Our Marketing?
In addition to all of the amazing new releases that will surely be hitting your shelves, what up and coming authors have books you'd like to purchase?
No matter which books you end up purchasing, here are some creative ways you can leverage new authors for your marketing promotions.
Author Signing Event

Book Club Book

Open Mic Night Host

Guest Lecturer

Panel Guest
How Can We Keep Storytime Fresh?
Story time is a proven winner when it comes to getting traffic into your bookstore or library. Not only do you provide an amazing resource to the community, it gives you a chance to get to know your customers or patrons.
We know that you know how to select amazing books and songs for your story time, but have you considered how else you can add variety to what you offer?
Storytime for Working Parents

Pajama Storytime

Sensory Friendly Storytime

Storytime In The Park

Storytime At The Senior Center (or Nursing Home)
Get a jumpstart on your 2020 planning with these amazing ideas and no matter which you decide to implement, remember that you won't know if it will work unless you try it! If you're looking for even more amazing marketing tips for your bookstore or library, you can sign up for our newsletter by clicking here.