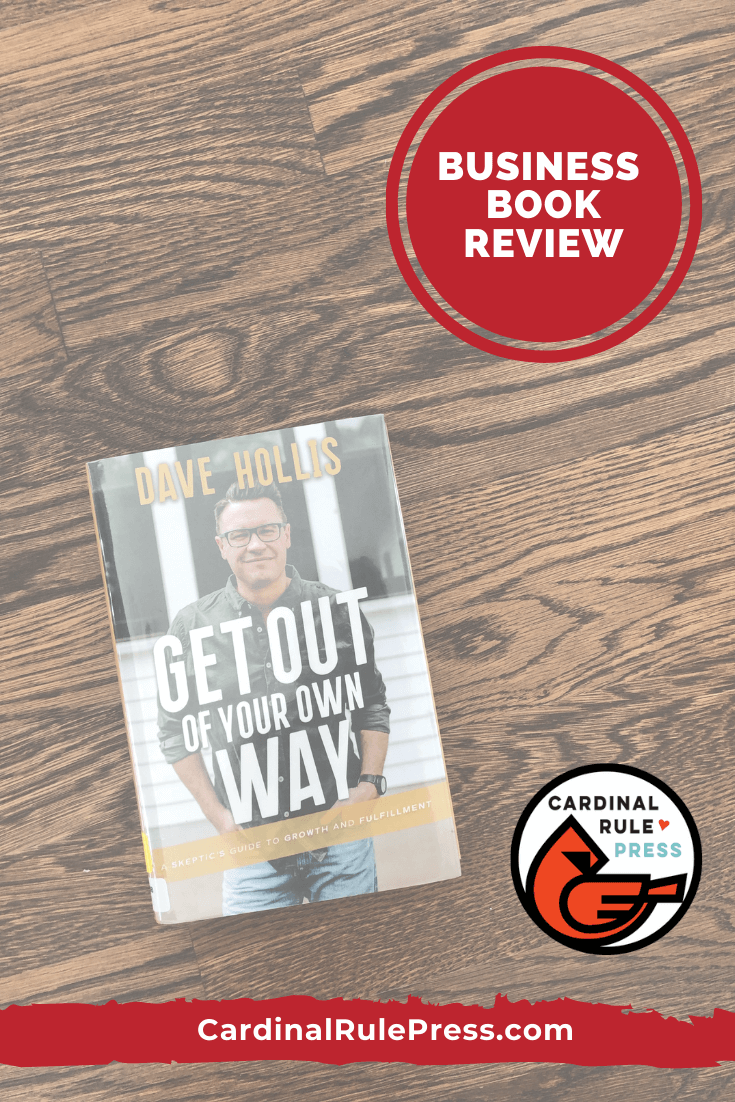 Each month, founder of Cardinal Rule Press, Maria Dismondy, will be reviewing business books she is currently reading. Along with a brief review, she is sharing some of her favorite quotes from the book.
Book Description
Dave Hollis used to think that "personal growth" was just for broken people.
Then he woke up.
When a looming career funk, a growing drinking problem, and a challenging trek through therapy battered Dave Hollis, a Disney executive and father of four, he began to realize he was letting untruths about himself dictate his life. As he sank to the bottom of his valley, he had to make a choice. Would he push himself out of his comfort zone to become the best man he was capable of being, or would he play it safe and settle for mediocrity?
In Get Out of Your Own Way, Dave tackles topics he once found it difficult to be honest about, things like his struggles with alcohol and his insecurities about being a dad.
Offering encouragement, challenges, and a hundred moments to laugh, in Get Out of Your Own Way, Dave:
Points the way for those of us who are, like he was, skeptical of self-help but wanting something more than the status quo
Helps us drop bogus ideas about who we are supposed to be and finally start living as who we really are
Helps us see our own journeys more clearly as he unpacks the lies he once believed—such as "I Have to Have It All Together" and "Failure Means You're Weak"
Reveals the tools that helped him change his life … and may change your life too.
Maria's Review
I have been a Dave and Rachel Hollis fan since Rachel's first book came out. I admire Dave's humor and motivation. I could hear his voice loud and clear in the book and made several notes on ways I can take the information and apply it to my life. I especially liked the topics that centered around work and growth in the area of our business.
There are a few personal sections where Dave talks about their marriage. The recent announcement about their own divorce made me question a lot of the advice they had been sharing on social and other content. I see how Dave continues to show up and it feels right in line with his book so kudos to you Dave Hollis!
Top Ten Quotes
1. "A life of growth means a life of exhilarating discomfort."
2. "In a world that moves a quickly as the one we're living in, leaning on how you were raised or what you learned in school may very well make you obsolete if you're not willing to roll up your sleeves and do the work."
3. "Whether you're in a business or personal relationship, being open about the things you're struggling with makes you relatable, allowing you to connect more authentically."
4. "We are the result of the life we've lived, but we only become prisoners of our mistakes if we allow it."
5. "The opinion of people sitting on the sidelines should not intimidate you, because you've already done something they haven't by putting yourself in the game."
6. "The way that you are coping may in fact mute some of the pain. But it will, in fact, also mute the joy. It will guarantee an inability for you to achieve growth. "
7. "Limiting beliefs are things we mistakenly hold as truths about ourselves. As they inform our identities, they give us permission to pursue certain dreams, act in a certain way, have confidence in our abilities, or think we do or don't have the right to do certain things. We think these are laws, that we have to learn to live within their bouns. But this is simply not the case."
8. "If you want an exceptional relationship, you better humble yourself to the possibility that you don't know anything about what your partner needs until you do some work."
9. "If you're holding back because of worry over what other people think, you have to ask yourself if you're giving the right kind of weight to the people in your life to regulate what you do or don't do."
10. I am deserving of love regardless of what my business card says."
Don't forget to sign up for Cardinal Rule Press freebies and tips coming right to your inbox with our bi-weekly Newsletter. Sign up today!