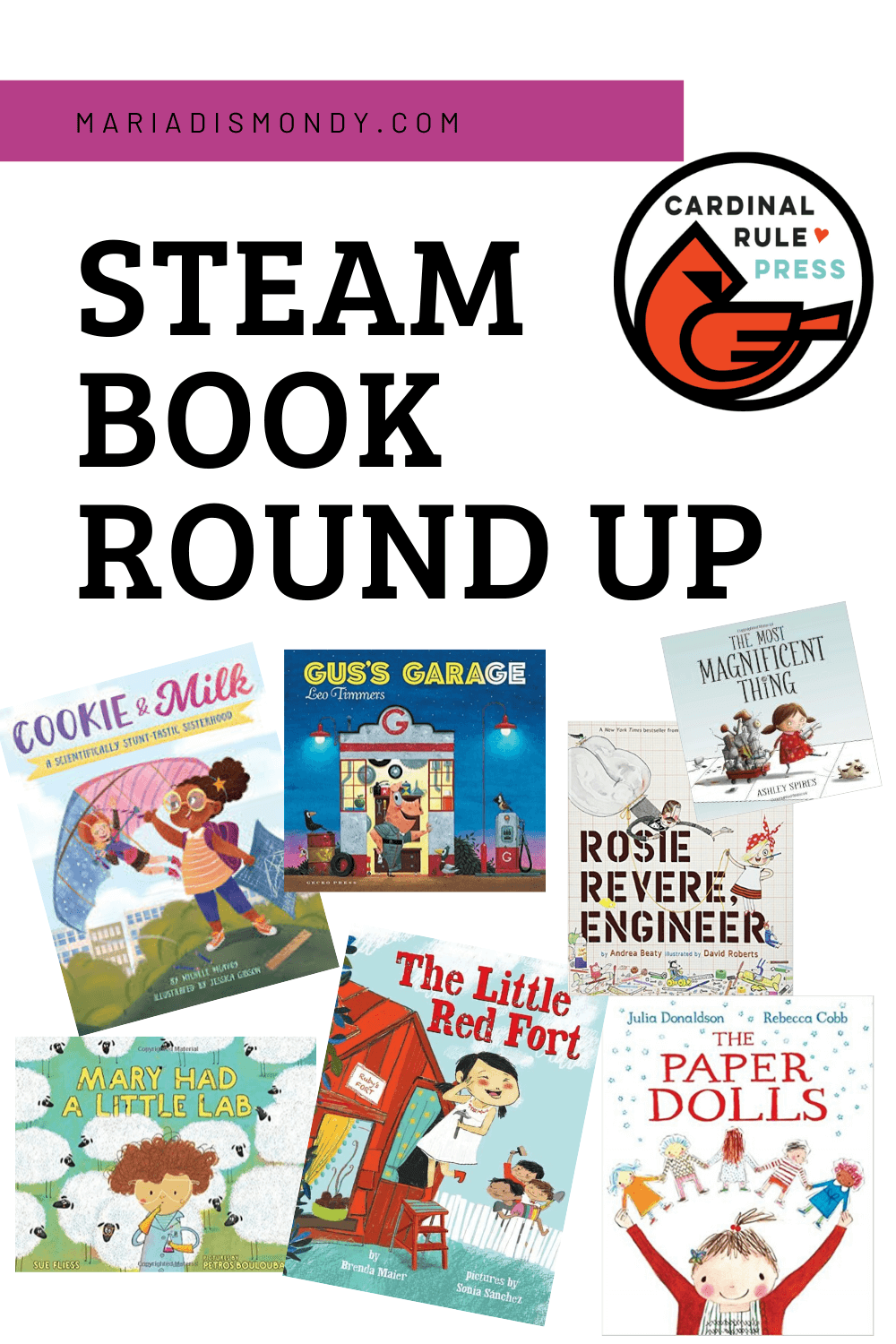 STEAM stands for Science, Technology, Engineering, Art and Mathematics. In the past, these were not areas of academics girls were encouraged to study. Today, we promote equality across genders and encourage our boys and girls to engage in play and learning that leads them to careers in the areas of STEAM.
Here is a list of books curated for you that we recommend on support STEAM education for boys and girls!
Cookie & Milk are nothing alike but are their best when together. Follow through this dynamic duo skateboard stunts and tubular-tastic surfs to discover what lies beneath true friendship. Cookie is a genius, Milk a daredevil. Cookie loves math & science. Milk loves adventure & adrenaline. What could two little girls who are nothing alike possibly have in common? You may be surprised at what you find.
Gus's workshop is chock-full of odds and ends. When his friend Rico comes over with a problem―his scooter seat is way too small for a rhino―Gus finds just the thing to fix it.
One by one Gus's friends bring him their vehicles and Gus solves their troubles with ingenious solutions. No job is too difficult for Gus!
Soon the workshop is almost empty. Is anything left to solve Gus's own problem at the end of a long day?
The girl has a wonderful idea. "She is going to make the most MAGNIFICENT thing! She knows just how it will look. She knows just how it will work. All she has to do is make it, and she makes things all the time. Easy-peasy!" But making her magnificent thing is anything but easy, and the girl tries and fails, repeatedly. Eventually, the girl gets really, really mad. She is so mad, in fact, that she quits. But after her dog convinces her to take a walk, she comes back to her project with renewed enthusiasm and manages to get it just right.
Rosie Revere dreamed of becoming a great engineer. Where some people see rubbish, Rosie sees inspiration. Alone in her room at night, shy Rosie constructs great inventions from odds and ends. Hot dog dispensers, helium pants, python-repelling cheese hats: Rosie's gizmos would astound—if she ever let anyone see them.
The breathtakingly beautiful story of one little girl and her five paper dolls. A string of paper dolls go on a fantastical adventure through the house and out into the garden. They soon escape the clutches of the toy dinosaur and the snapping jaws of the oven-glove crocodile, but then a very real pair of scissors threatens.
Ruby's mind is always full of ideas.
One day, she finds some old boards and decides to build something. She invites her brothers to help, but they just laugh and tell her she doesn't know how to build.
"Then I'll learn," she says.
And she does!
When she creates a dazzling fort that they all want to play in, it is Ruby who has the last laugh.
Mary is an enterprising young inventor. She wants a pet, but it isnt one she can easily buyso she makes one with the Sheepinator! Marys pet sheep and her new invention make her popular with her classmates. But when she starts making sheep for her new friends, things go hilariously awry. Can Mary invent a way to fix this mess?
Don't forget to sign up for Cardinal Rule Press freebies and tips coming right to your inbox with our bi-weekly Newsletter. Sign up today!