'Tis officially the middle of December, which means the holiday season, and all of its accompanying joys and stressors, are in full swing. Mid-December is a time when decorations adorn the neighbors' front yards, phone calls with family members last just a little bit longer than usual, and shoppers scour aisle after aisle in search of that perfect gift.
Conveniently for those of us who work in publishing, mid-December is also a time when book sales tend to spike. December is a super popular month to purchase books –– especially high-ticket autobiographies and colorful coffee table reads. There is practically a book for everything, and it's no wonder books of all shapes and sizes are so easily giftable. A 2017 article on book marketing suggested that a whopping 25% of trade books are bought as gifts.
December 2021 may bring us even more of a spike in book sales than usual, with 2020 being a really good year for online and digital book sales. Children's and young adult eBook revenues alone leapt 69.7% in the first nine months of 2020.
It seemed that, during all the craziness and shut-downs of the pandemic, people found solace in reading good old-fashioned books. Authors and publishers can rest easy knowing that experts in the field have dubbed it recession-proof. As local bookstores shut down because of the pandemic, online and digital book sales soared.
So, as an author or publisher, how can you use this booming holiday book market to your advantage? Included below are seasonal marketing tips designed to help optimize your book sales in a climate that is more than accommodating!
1. Promote your book on social media by getting your followers engaged
The role of social media in promoting your book is more important than it ever has been. If you want your book to sell, you should be posting about it regularly. But you don't have to do all of the work yourself! Consider giving your followers an active role in promoting your book. Encourage them to post pictures of themselves giving or receiving your book as a gift to social media. Then, you can repost their posts to let them know they are valued and gain even more attraction!
2. Post photos of your book against a holiday backdrop
In December, you want your followers to see your book and immediately remember that the holidays are approaching. One way you can do this is by staging photos of your book in a charming holiday setting. Perhaps you could take a photo of your book perched in front of a Christmas tree, or add festive graphics to a promotion post. Anything to keep the gift-giving spirit alive!
We've made it a little easier for you to post to social media with our FREE Download – One Month of Social Media Post ideas for bookstores and libraries. You can tweak this if you're an author!
3. Work with retailers to offer your book at a special holiday rate
Is your book being sold at a local bookstore or gift shop? Do you want it to be? Try pitching your book by pairing it with similar items in the store and suggesting they be sold as some kind of package deal! A book about coffee could be paired with a coffee mug and Keurig, for example. The discount would make it so buying these items together would be cheaper than buying each of them separately.
4. Orchestrate a giveaway on social media
Consider gifting your followers by giving away a free copy of your book to a few people who like or comment on the promotion post! Or, encourage followers to purchase one of your books by giving away a free copy of a different book with it as part of a holiday special.
5. Write a holiday-themed email for subscribers
This is another way to remind your audience that it's time to start thinking about gift-giving. An email brimming with holiday cheer is sure to get them in the holiday spirit! Plus, you can promote your social media accounts and holiday giveaways in the email body.
6. Publish a short story over the holidays
If you're not prepared to launch a book over the holidays, consider embarking on a holiday-themed short story instead! You can market the short story to followers as an eBook and even offer it for free alongside one of your published books. This keeps your name and your writing out there without demanding the commitment of a full book launch.
7. Design festive book covers
You shouldn't judge a book by its cover, but holiday shoppers do it well. To keep your products attractive and eye-catching, consider designing seasonal covers for holiday editions of your books! Or, if your book is already holiday-themed, design a cover that is undeniably meant to celebrate the season.
Hopefully these tips assist you in your seasonal bookselling endeavors! Don't forget to download your FREE One-Month of Social Media Posts!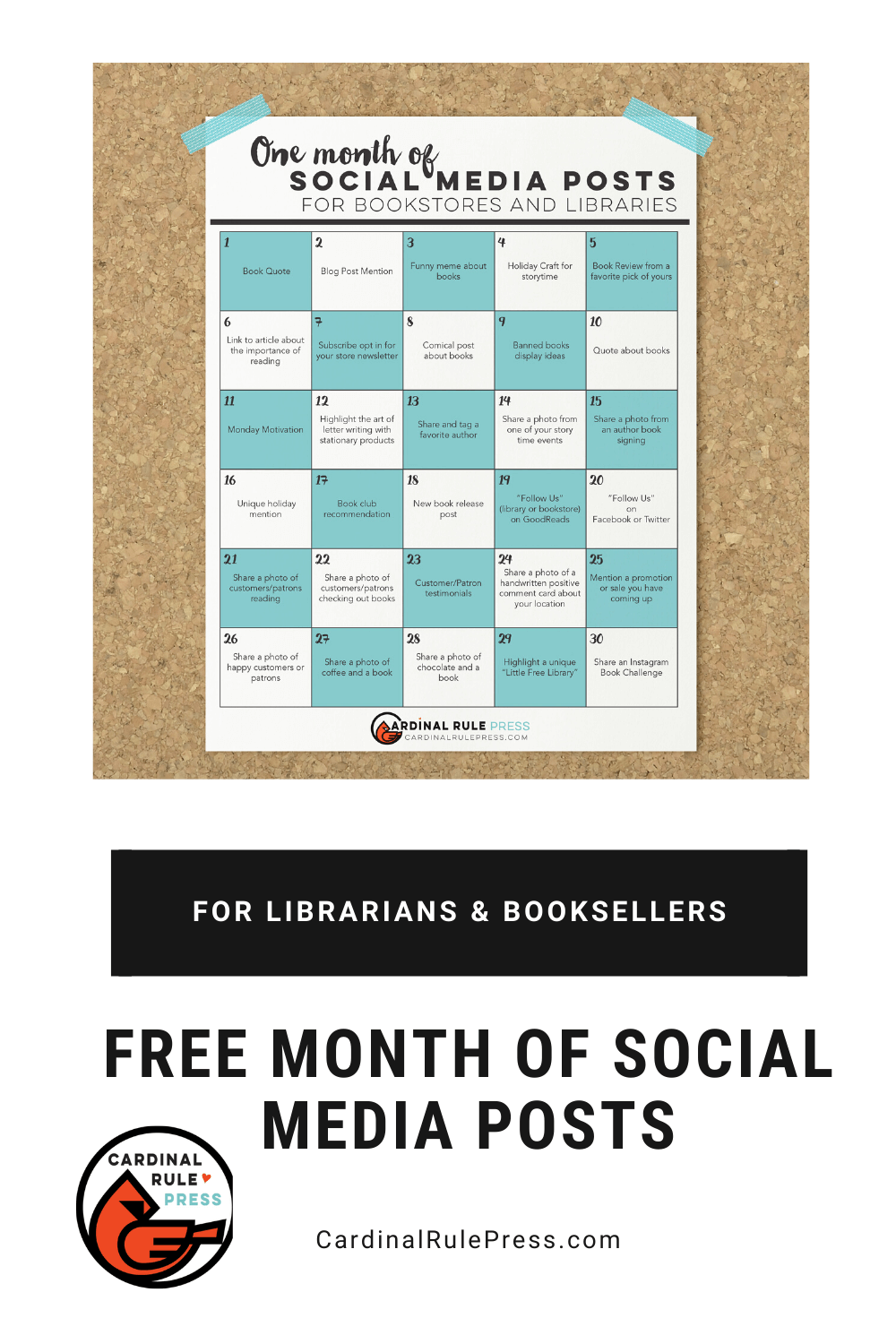 Be sure to start filling your holiday shopping cart at Cardinal Rule Press by checking out our prized collection of titles, all of which encourage positive character traits in children!
Tune into Maria Dismondy's All the Write Marketing podcast for more marketing tips and industry-relevant content.
A senior in the University of Michigan-Flint's Secondary English Teacher's Certificate Program, Lauren is an aspiring writer and English educator. Along with interning at Cardinal Rule Press, Lauren has worked for UM-Flint's Writing Center and student newspaper. She enjoys running, being outside, and (naturally) reading in her spare time.