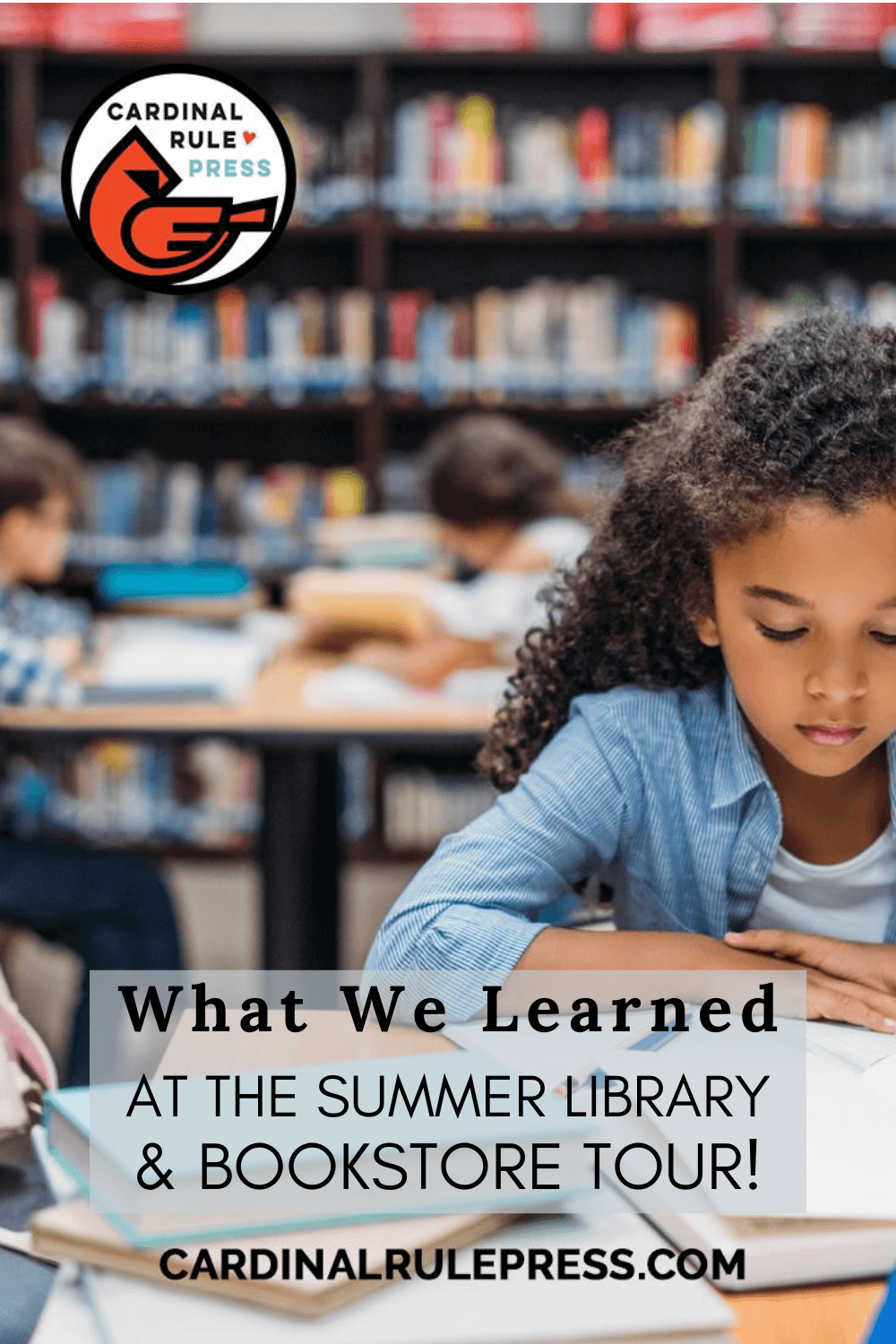 We sure had a BLAST this summer with our VIRTUAL SUMMER BOOKSTORE AND LIBRARY TOURS! We hope you were able to catch some of them on our Facebook Live's but if not, fear not! We've gathered some of our favorite BEST PRACTICES from our tours to bring you their BEST IDEAS, RESOURCES & PROGRAMS!
Speaking of BEST RESOURCES, We've got a FANTASTIC FREEBIE for you this month: Our 40 BOOK CHALLENGE can be shared with your patrons, customers, students, family and friends – download for FREE! The 40 BOOK CHALLENGE is popular in grades 3-6 right now!
EMBRACE YOUR LOCATION'S PERSONALITY!
We've said it before, but these tours from across the country really brought the point home. EMBRACE what makes your library or bookstore special. What makes it unique? Share it with your patrons and customers!
Warwick's Bookstore in La Jolla, CA is located by the ocean. They LOVE their special, "Seaside Library" display filled with ocean-themed books for tourists and guests to find quickly and easily.
Lancaster, PA's Public Library is 260 years old and one of the oldest libraries in the country! They've turned old photos of the library into large photo galleries to share with school groups and storytime guests! Their rare, old collection of cooks can also be viewed (by appointment only) for special research projects or history lessons.
OFFERING RESOURCES – GO BEYOND THE BOOKS!
These amazing gems offered so many resources and opportunities for children to showcase their talents in ways that go beyond the books!
Our friends at the Springville, UT public library offer a modern design with tons of open space and modular furniture for maximum freedom to grow, build and play in their space. Laser tag nights, sewing machines, or a Coding Club for tweens and teens offer hands-on activities they might not find in their own household.
PERSONAL TOUCHES ALONG THE WAY…
While many of us are dealing with temporary building shut-downs or only virtual connections, these tour guides shared the BEST ways to connect with their customers, patrons and little readers!
Warwicks self-describes themselves as "Book Connectors," by chatting with patrons, helping them map through their bookstore space, and helping them dial in their "just right" book choices.
At Lancaster Library, virtual storytime includes BIG PICTURE BOOKS that speak directly TO THE READER to keep them engaged through their computer, as opposed to passive reading. A favorite is Spencer's New Pet by Jessie Sima.
Curbside service allows you the advantage of closely seeing what folks are ordering – providing you an opportunity to follow up and have that personal connection with that patron or customer when they come for delivery or call to place an order.
Our summer's tours were a silver lining in the middle of an unusual summer! All of our Facebook Live events are saved on our FACEBOOK PAGE VIDEOS – check them out!
Sign up for Cardinal Rule Press freebies (like this month's 40 Book Challenge!) and tips coming right to your inbox with our bi-weekly Newsletter. Don't forget to purchase your Back to School books over at https://cardinalrulepress.com/books/.
~ Your Marketing friends at Cardinal Rule Press