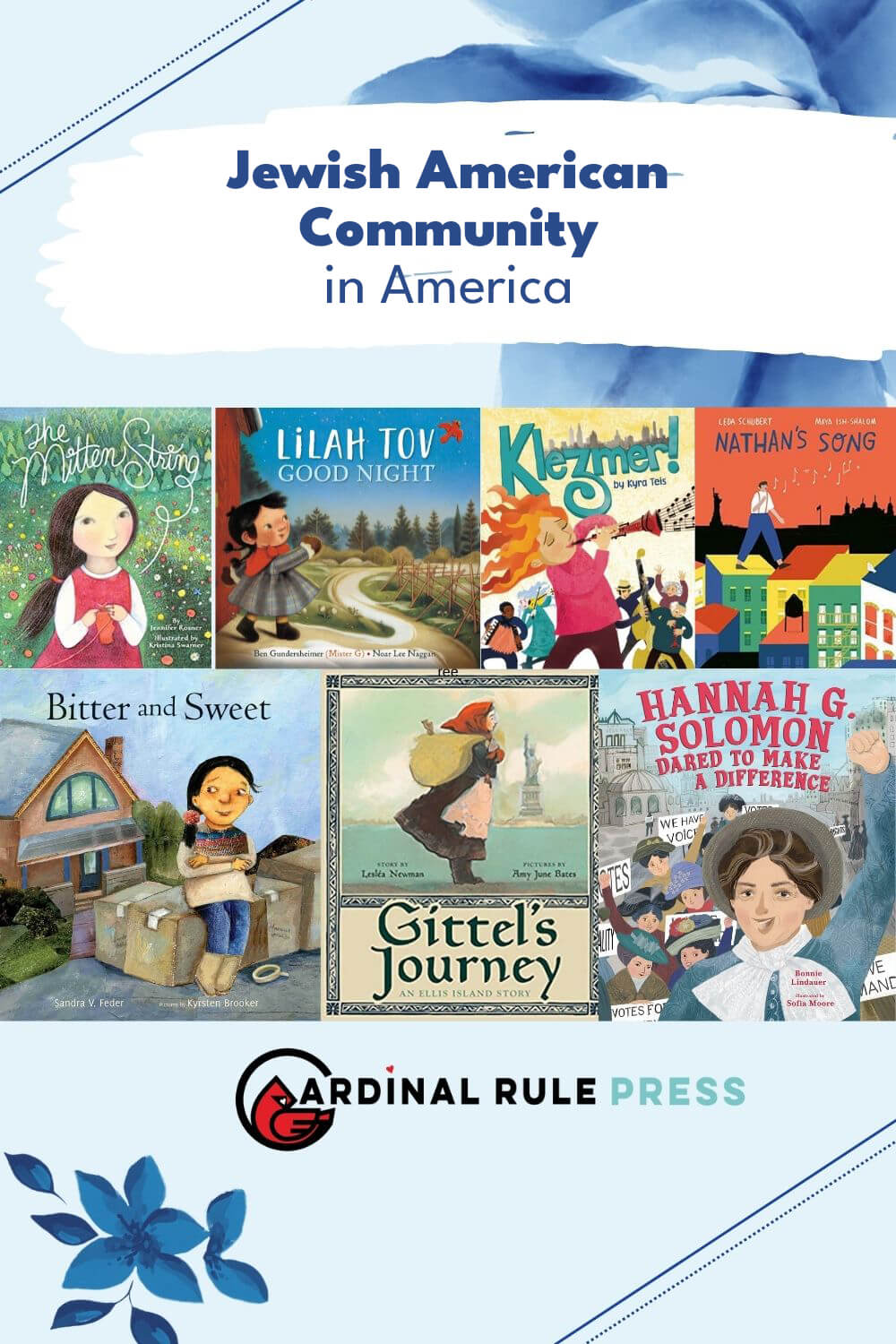 May is Jewish American Heritage Month and it's a time to recognize the history of Jewish contributions to American culture. This month also gives us an important opportunity to gain perspective, grow awareness, and celebrate the Jewish heritage. Our favorite way to do this is through books, and we curated a list of some of our favorites that spotlight the diversity of the Jewish community in America.
10-year-old Gittel is a brave girl traveling alone on a long journey to the United States. When she reaches Ellis Island, she discovers that her travel information is illegible, and she is overcome with worry. But with the help of generous strangers at her new destination, Gittel is united with her cousin, and with the rest of her family. The book is based on real-life immigration stories and includes Yiddish phrases.
This joyful celebration of a little-known musical form is paired with rhythmic text and vibrant illustrations. A young girl visits her Bubbe and Zayde in their apartment on the Lower East Side of New York City, where she learns all about the history of the musical tradition that her Eastern European Jewish immigrant ancestors brought with them. As she listens, dances, and plays, she describes the sounds she hears: the clarinet, accordion, and violin from the traditional klezmer band, and the addition of a bass from klezmer's rebirth in the 1970s.
Nathan's Song
by Leda Schubert and illustrated by Maya Ish-Shalom
Nathan loves to sing. When he hears a famous opera singer perform in a nearby town, he realizes that music could be for him, too. If he wants to make that a reality, he will need to move from the shtetl in Russia in order to pursue a different future. With the support of his family, Nathan travels to New York City to be a singer. While one dream is coming true, he needs to reconcile what it means to be so far from home.
The Mitten String
By Jennifer Rosner and illustrated by Kristina Swarner
This modern Jewish folktale is a story of generosity and community. When a deaf woman and her baby are invited to stay with Ruthie's family, Ruthie wonders how the mother will know when her baby wakes, if she cannot hear. Ruthie uses her craft skills and her kindness to offer a special gift for the mother and baby.
Lilah Tov, Good Night
by Ben Gundersheimer (Mister G) and Noar Lee Naggan
This lyrical Hebrew lullaby is paired with bold illustrations to tell the story of a refugee family, sharing their resilience and celebrating the everyday beauty of the world.
As a family leaves for a new beginning, their young girl notes all the natural wonders surrounding them as she says good night—lilah tov—to everything they pass by. When their travels are over, her parents tuck her in, and they share dreams in their new home.
Bitter and Sweet
by Sandra V. Feder and illustrated by Kyrsten Brooker Brooker
When Hannah's family has to move, her grandmother tells her how she felt leaving the old country―it was both bitter and sweet. But Hannah feels only bitterness as she prepares to move. Hannah feels more at home when the family lights the Shabbat candles. And soon, a new friend reaches out with a special gift. Hannah begins to see that sweetness can come from unexpected places, and that she can even create some sweetness herself. An author's note is included on the concept of bitter and sweet in Jewish culture.
When Hannah G. Solomon looks around Chicago, the city where she was born, she sees unfairness everywhere. Because Hannah's family has always fought for what's right, Hannah decides that she will help change conditions for people in Chicago. In this powerful picture book biography of a social reformer, activist, and organizer, Hannah's story is told and she will inspire readers to see how anyone can be the start of a movement that changes the world.
For more book lists and suggestions, be sure to join our monthly newsletter!
Christie Megill is an editorial and marketing intern at Cardinal Rule Press and she spends most of her spare time reading children's books. She has experience as a writer, elementary school teacher, curriculum developer, and literacy specialist.