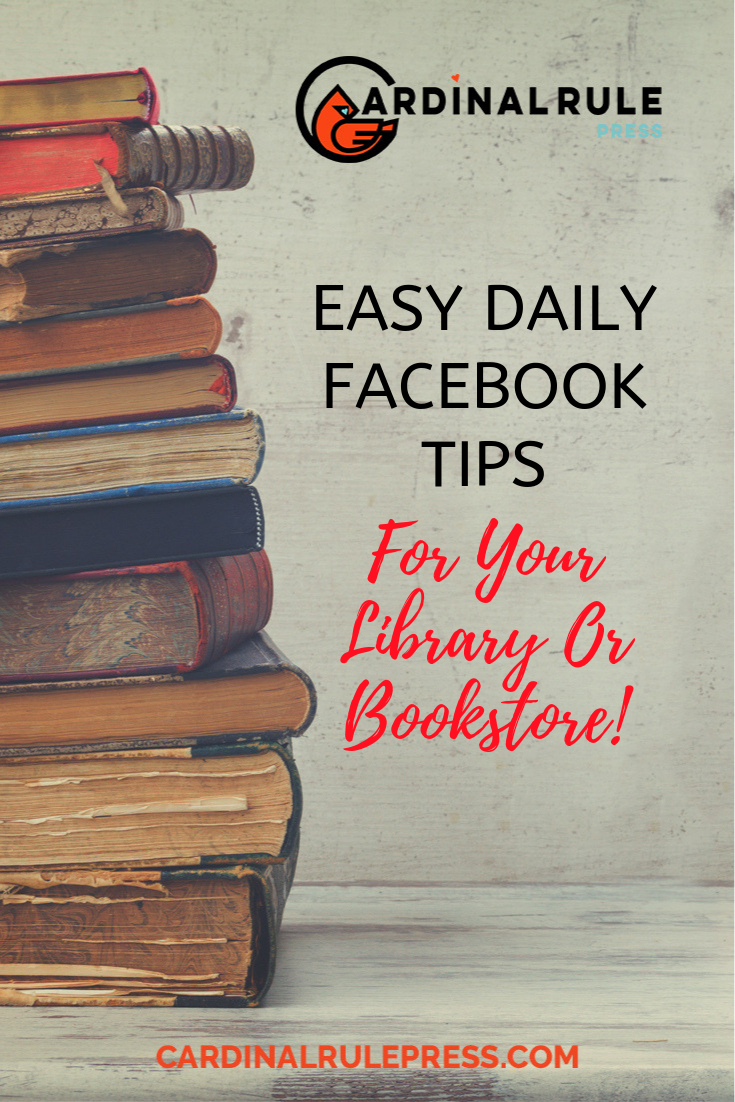 ---
We get it, you're a small business without a big budget for advertising. It can seem impossible to compete with other "big box" competitors in your community, but we want you to know you don't need a massive Facebook marketing budget to make yourself known!
In today's blog, your friends here at Cardinal Rule Press are sharing some of the simplest and most effective Facebook marketing tips!
Read the blog post Insider Scoop: What Your Followers Really Want to See on Social Media for more online marketing tips!
Review your Previous Activity

~ Look at old topics and posts to see what was the most popular. Also, check competitor pages to see what types of content and topics garnered the most attention from followers.

Optimize your Facebook Page

~ It doesn't take long to populate company information on your Facebook page. Customers often use Google to search local businesses, but more customers are turning to Facebook to research brands and find local businesses.

Use Facebook's Story and Facebook Live Features

~ It's a terrific way to get easy-to-digest posts in front of your audience. It's also a great way to showcase the culture of your library or bookstore in a more casual way! Show off your space, introduce a staffer, or go "live" during Storytime!
In fact, we've got a great FREEBIE to help you plan your Facebook Lives coming to you soon! Hop on over to www.CardinalRulePress.com and sign up for our weekly newsletters where you'll get weekly freebies, ideas, great resources and more!
Stay Ahead with Planned Content

~ Avoid making Facebook posts without a content calendar unless you're jumping on a trending topic or sharing some unexpected news of the day. A calendar is the most effective way to stay on top of your messaging, brand, and promotion of your monthly special events.

Post When Your Fans are Online!

Who is your audience? Busy parents, families, educators? Try to anticipate when they are most likely online and post at those times when your audience is most likely to like and engage with your Facebook feed. We would guess that early mornings, afternoon naptimes and evening bedtime phone scrollers are the most popular timeframes. Avoid Fridays after 12 noon and weekends, when most folks slow down online activity.

Measure Your Success and Adjust as Needed

~ No matter your approach to Facebook marketing, make sure you're measuring the success of your efforts. Take time each week to review your Facebook activity. Which posts get the most likes and comments? Which posts fell flat? With consistency and some intention, it won't take long before customers are noticing your fantastic Facebook efforts!
For more tips, tricks, and helpful resources, make sure and subscribe to the Cardinal Rule Press Newsletter HERE.
For parenting tips, join the Empowering Kids with Character newsletter and receive a free Affirmation Cards download.
Author Bio
Sarah Cavanaugh, mother of two teens, is a Marketing and Communications Consultant living in West Michigan.