There are so many business books I have read that have benefited our publishing company or my author platform. Over the next few months, I will highlight some of my favorite business books with a brief synopsis of the book as well as my top ten take aways or quotes.
---
---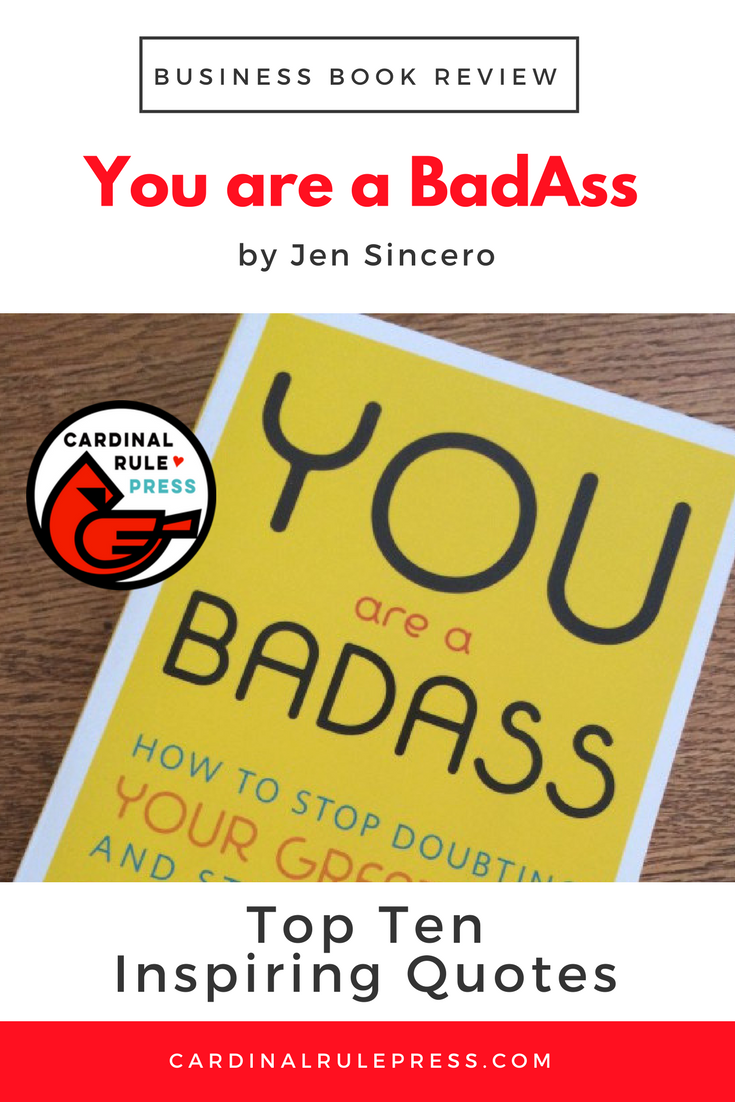 ---
Book Synopsis:
YOU ARE A BADASS IS THE SELF-HELP BOOK FOR PEOPLE WHO DESPERATELY WANT TO IMPROVE THEIR LIVES BUT DON'T WANT TO GET BUSTED DOING IT.
In this refreshingly entertaining how-to guide, bestselling author and world-traveling success coach, Jen Sincero, serves up 27 bitesized chapters full of hilariously inspiring stories, sage advice, easy exercises, and the occasional swear word, helping you to: Identify and change the self-sabotaging beliefs and behaviors that stop you from getting what you want, Create a life you totally love. And create it NOW, Make some damn money already. The kind you've never made before.
By the end of You Are a Badass, you'll understand why you are how you are, how to love what you can't change, how to change what you don't love, and how to use The Force to kick some serious ass.
---
My Review:
I highly recommend this book and plan to read it a second time. It is chockfull of helpful advice about living your best life, despite all of the "stuff" that seems to pop up!
---
Top Ten Quotes:
"If you're serious about changing your life, you'll find a way. If you're not, you'll find an excuse."
"You are responsible for what you say and do. You are not responsible for whether or not people freak out about it."
You are perfect. To think anything less is as pointless as a river thinking that it's got too many curves or that it moves too slowly or that its rapids are too rapid. Says who? You're on a journey with no defined beginning, middle or end. There are no wrong twists and turns. There is just being. And your job is to be as you as you can be. This is why you're here. To shy away from who you truly are would leave the world you-less. You are the only you there is and ever will be. I repeat, you are the only you there is and ever will be. Do not deny the world its one and only chance to bask in your brilliance."
"You are loved. Massively. Ferociously. Unconditionally. The Universe is totally freaking out about how awesome you are. It's got you wrapped in a warm gorilla hug of adoration. It wants to give you everything you desire. It wants you to be happy. It wants you to see what it sees in you."
"What other people think about you has nothing to do with you and everything to do with them."
"It never ceases to amaze me the precious time we spend chasing the squirrels around our brains, playing out our dramas, worrying about unwanted facial hair, seeking adoration, justifying our actions, complaining about slow Internet connections, dissecting the lives of idiots, when we are sitting in the middle of a full-blown miracle that is happening right here, right now.
We're on a planet that somehow knows how to rotate on its axis and follow a defined path while it hurtles through space! Our hearts beat! We can see! We have love, laughter, language, living rooms, computers, compassion, cars, fire, fingernails, flowers, music, medicine, mountains, muffins!"
"Because if you base your self-worth on what everyone else thinks of you, you hand all your power over to other people and become dependent on a source outside of yourself for validation. Then you wind up chasing after something you have no control over, and should that something suddenly place its focus somewhere else, or change its mind and decide you're no longer very interesting, you end up with a full-blown identity crisis."
"Nobody who ever accomplished anything big or new or worth raising a celebratory fist in the air did it from their comfort zone. They risked ridicule and failure and sometimes even death."
"Maybe, if you put your disbelief aside, roll up your sleeves, take some risks, and totally go for it, you'll wake up one day and realize you're living the kind of life you used to be jealous"
"Your life is your party. You get to choose how you invite people and experiences and things into it."
---
Did you know you can get our latest updates sent RIGHT to your inbox? Sign up here.
---
My name is Maria Dismondy. I am a children's book author who also founded the publishing company, Cardinal Rule Press.
Finding ways to market my messages is a passion of mine. I want to help you gain greater recognition of your brand, to generate new readers and improve your sales. Why? Because I love to GIVE and CONNECT and I truly believe we are all in this together!