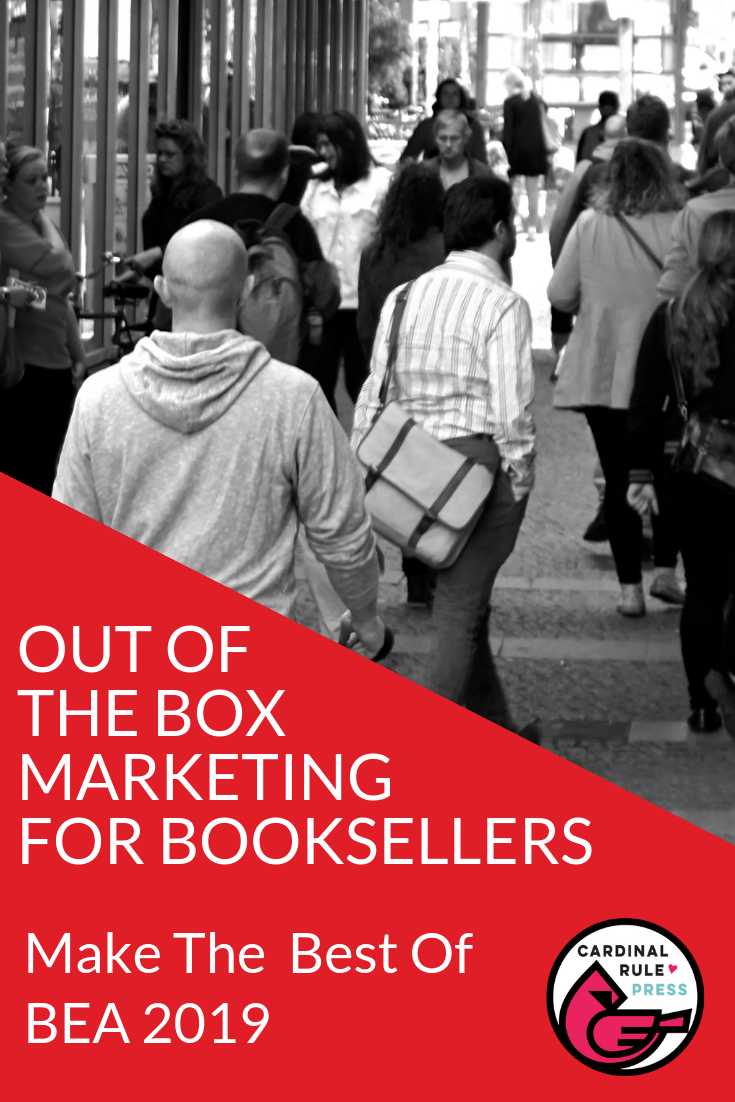 ---
BEA is right around the corner and we here at Cardinal Rule Press know important this event is to your book buyer. Beyond selecting new titles to bring into your bookstore or library, it's also a huge event that can make you feel lost in the crowd and overwhelmed. Here are our tips for book buyers to get the most out BEA 2019. Not attending BEA this year? Keep this list handy and use them at your next conference.
The Key To Success Is Preparation, Plan!
With an event as large as BEA located in the Javitt's Center, you can't possibly do it all. Take advantage of The Bibliophile's Guide planning tool. There, you can design your experience based on the author events you want to attend, as well as the workshops, panels and round table discussions.
Pro tip: Download the BEA App so you can have the event at your fingertips.
Networking Starts Before the Event Starts
Before you even arrive at a conference, you can begin networking with others attending the event by using social media. Find other people who are talking about the event by searching for hashtags and engaging in the excitement leading up to the event.
Pro tip: The hashtags for BEA are #BookCon19 #BookExpo and #BookExpo19, use those to see who is also attending the event.
Set Goals For The Event
Setting goals for attending a large book expo is paramount to your success. Why are you going? Who do you need to connect with and what do you need to learn? Ask yourself these questions so that you've got a solid game plan to put into place while you're at your event.
Pro tip: Make a checklist of your goals and keep them handy. If you have specifics for your store or library, make sure that you cross reference what you've found and what you need often. Need to make a product list for specific books?
Check out our free book inventory audit worksheet!
Leave Room In Your Schedule For Inspiration
Attending a large conference means that every single second of your day from sun up to sun down could be scheduled. Instead of making a minute by minute plan, make a list of your absolutes that you can't miss, the events or vendors you really want to meet or attend and a list of the ones you'd like to.
Pro Tip: Events filled to the brim with people in your industry who are just like you.You might make a connection with someone, want to attend the workshop their headed to so you can continue to build the relationship.
Leverage Live Events By Following Up
The easiest way to make live events continue to work for you long after they're over is by following up. Follow the people you meet on their social media channels, share who you're running into on yours and build excitement together. If you really connect with someone, grab their card or contact information. Then, when you get home reach back out to follow up.
Pro Tip: Face to face invitations are a great way to begin to secure authors for their book tour stops.You can plant the seed at the conference and then follow up when you get back home!
Are you headed to BEA this year? If so, we hope these tips for getting the most out of conferences will help you rock your event!
---
For more tips, tricks, and helpful resources, make sure and subscribe to the Cardinal Rule Press Newsletter HERE.
---
Author Bio
NJ Rongner is a digital marketing expert who consumes books like she does air. She loves marketing, books, coffee and living in MA (although not necessarily in that order).